JULES Music for Kids, THE STORY


2022 -  CELEBRATING 25 YEARS OF CHILDREN'S MUSIC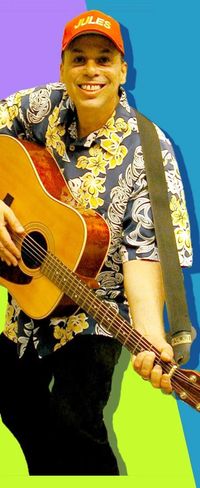 JULES Music 4 Kids, LLC was created by Jules Moss in November, 1997
Early Childhood based music education & entertainment programs for young children since 1997
 Irvine, California
JULES is an award winning early childhood educator and musician. Combining these two talents, he has created an early childhood education music program and a highly entertaining children's music show that has little ones laughing, dancing & singing. JULES performs hundreds of kids shows each year. JULES has personally trained a group of talented and dedicated music teachers that bring weekly music classes to over 1200 students a week, all year long. 
"Jules is our favorite kid's musician" Barnes & Noble Booksellers, Irvine, CA.."
Awards:
OCAEYC, Barbara Hartman Scholarship Award 1995,
OC PARENTING Magazine, Voted Readers Choice Best Children's Entertainer 2011 &  2012
MEDIA FEATURE: THE ORANGE COUNTY REGISTER , APRIL, 2007  FRONT PAGE

Jules has been a professional musician for over 30 years. He started out playing drums professionally at age 13 and became one of the best young drummers on the East Coast jazz and pop scene.
An award winning early childhood educator since 1990, Jules has put his educational and musical talents together to produce a highly entertaining and educational show for kids. He has received OCAEYC's (Orange County Association for the Education of Young Children) Barbara Hartman Award.
With Jules' warm and engaging personality and prodigious musical talents, it's no wonder he is so popular with young audiences.
Jules is an educator, children's recording artist, singer, songwriter, percussionist, guitarist and all around "Funny Guy" as he's known to his little friends. He combines his passion for music and his love of children with his unique brand of silliness! The results are a fun, high energy musical "happening!". Book your preschool events, kid's birthday parties with Jules!
Jules has performed at many preschool events, public library programs, birthday parties, elementary school assemblies and public concert events.
Education:
Berklee College of Music, Boston. Massachusetts 1973
Orange Coast College, CA / 28 E.C.E. Units 1993
Presenting JULES Music and Movement Workshop 4 E.C.E. Educators
OCAEYC Conference, Fullerton College, Fullerton, CA. 1998
SAEYC Conference, East L.A. College, Monterey Park, CA. 1999
Children's Home Society Conference of CA. Garden Grove, CA. 2000
CAEYC Conference, Long Beach Conv. Center, Long Beach, CA. 2002
NAEYC Conference, N.Y.C., New York. 2006
CAEYC Conference, Pasadena , CA 2014
Children's Home Society of OC
Member :
NAEYC, National Association of the Education of Young Children, ASCAP, American Society of Composers, Authors and Publishers
JULES itty bitty Rockers, Music & Move Classes 4 Preschoolers
1997 to present
Weekly music & move classes @ your preschool, child care center. Live guitar sing-a-long, finger-play songs, movement songs, puppet, props, dancing & story songs. Musical instrument demonstrations & hands on play with brass, wind, string & percussion. Trumpet, trombone, banjo, mandolin, ukulele, accordion, flute, timbales, bongo drums, didgeridoo & more!
Currently, 2016/2017 School Year, Jules & Jules itty bitty Rockers Qualified Teachers are teaching weekly classes throughout Orange County & Los Angeles, CA.  Our teachers bring music classes to over 1400 preschool-Kindergarten children weekly!
JULES Music Parties 4 Kids 1997 to present
Rockin' Musical Fun! A high energy, fast paced musical celebration! Guitar Sing-A-Long, Musical Instrument Play, Music Games, Singing Puppets, Dancing. Giggles & Wiggles Guaranteed! Orange County, Los Angeles & Inland Empire, CA..
JULES Rockin' Music Show 1997 to present
Interactive, high energy, live guitar, silly sing & move-a-long show @ preschools, libraries, summer camps, holiday shows, kids museums, moms clubs & family picnics. Professional sound provided by JULES Music 4 Kids.
SING A LONG, MOVE A LONG, KIDS CLASSIC SONGS, PUPPET SONGS, STORY SONGS, MUSIC GAMES & LOTS OF AUDIENCE PARTICIPATION! EXPECT UNCONTROLLABLE GIGGLES & WIGGLES BY ALL!
JULES Early Childhood Workshops 4 Preschool Teachers! 1997 - present
JULES itty bitty Rockers Music & Move Workshop with Songs & Activities  for Circle Time available at county,  state and national conferences or at your preschool.
High energy, interactive, super fun workshop that will get all teachers attending singing, dancing, laughing & ready to bring new songs to their classroom on Monday morning! Basic skills content and songs for the seasons, holidays including dance games, story songs, fingerplay , movement songs with props and more. Wear comfortable clothes and shoes. Hand out provided. JULES CDs available at event.
 JULES MUSIC CDs 4 Kids
" EVERYBODY HAS A BELLYBUTTON!" & "CAN A WORM CHA-CHA-CHA?"
---
---







His beat goes on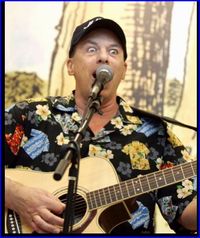 April 19, 2007  Updated Aug. 21, 2013 1:17 p.m.
By THERESA WALKER / The Orange County Register

 Heather Gort with her daughter Zoe, 3, at left , and Heather's friend Debbie Zdrazil, with her son
Corey, 2, listen to musician Jules Moss perform at the Barnes and Nobles in Aliso Viejo. The Gort's have seen Moss about 10 times. This was the Zdrazil's first show.
It's a half-hour before the start of the show and every seat is taken. Those left without a chair sit on the floor, in their parents' laps or in strollers.
The restless ones crawl around, suck the last drop of formula from their bottles, pull their mother's earrings, climb onto the Winnie the Pooh-themed stage in the children's book section of the Barnes & Noble in Aliso Viejo.
They wait for Jules Moss.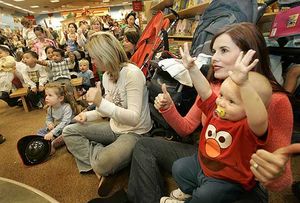 "What songs do you think he's going to sing today?" Heather Gort asks daughter Zoe, 3. Zoe sang along to a Jules CD on the way over in the car. She knows all the words. She's hip to his look, too.
"When we go somewhere and see a man in a Hawaiian shirt," her mom says, "she says `Hey, look! That's Jules.'"
Hawaiian shirt, dark pants, white tennis shoes and a dark baseball cap with "JULES" in white stitching. 55 years old. That's Jules.
A few minutes before show time, Jules bounces on his toes and talks fast between sips of his iced mocha. He's nervous. "I'm always nervous until I start," Jules says in his gravelly Queens accent. "I'm not Carly Simon, though. She used to throw up every time before she went on stage. Every time." Not that a little spit-up would concern this crowd, which has grown to more than 100 youngsters and adults. "They're everywhere," he says. "OK. It's show time."
He gives a little jig, circles to the back of the crowd and then makes his way to the stage stepping between strollers and toddlers. On stage, it's just Jules, his guitar, a microphone and a speaker.
It's a far cry from his life as a drummer in New York City - jazz clubs, pop and rock bands, Broadway shows, recording sessions. That was Jules. When he turned his back on it all and moved to Orange County with his wife Serra, a singer/songwriter turned chiropractor, Jules couldn't have imagined he'd become a favorite with the local preschool set.
Are you destined to be a musician if your mom plays classical piano at home and your dad, a bugler and jazz drummer while in the Army, keeps drumsticks and brushes around the house?
What if during a family move from New York City to Connecticut, you, 8, and your two brothers discover your dad's drum kit in these big black boxes? And the beat he plays hooks all three of you? Or if your dad takes you to see some of the greatest jazz legends perform and on one of those occasions you, 9 or 10 years old, get to meet Louis Armstrong backstage?
That's Jules.
It's summer, it's hot and he and his older brother Dave knock on the door of Armstrong's dressing room. "He looked at me and he said, `C'mon in Pops,' " Jules recalls, with a laugh. His dad also took him to see drummers Buddy Rich and Gene Krupa. "Oh, I want to do that," Jules told himself. He took piano lessons, played bugle in the Boy Scouts and by the time he was 13, dedicated himself to the drums.
Roy Moss gave his sons this piece of advice: "Drummers should keep the beat."Jules went beyond that. He learned to read music, practiced three to four hours every day after school - "They had to tell me to stop" - and played in his high school's concert and jazz bands. He earned money on the weekends with jazz and rock gigs. "I was a working musician at 13 years old," he says.
After high school, Jules spent two years at Berklee College of Music in Boston before heading to New York. He performed in and around the city, traveled the U.S. and the world as a member of various jazz groups. In the early to mid '80s Jules met Serra. She had grown up around Southern California, but came to New York seeking a career in music. After 20 years on the music scene, they both wanted a different life. 
Serra took pre-med classes to become a chiropractor. Friends helped Jules get a job as a teacher's assistant at a kindergarten.
They came to California in 1991, settling in Huntington Beach when Serra got accepted at a chiropractic college in Whittier. Jules found work as a substitute teacher at several preschools and spent about eight years at the Irvine Child Development Center.
"It was fun. Kids at that age are fun," he says. "They're totally honest and their honesty is hysterical. I like to laugh and they made me laugh. And I, in turn, made them laugh."
The music crept back into his life. But unlike all the years he spent keeping the beat as a drummer but never opening his mouth, he sang. "When I read a story and it had a rhyme, I did it with a rhythm and I gave it a beat. I'd make a little rap and the kids loved it."  Soon, the schools were asking him to do more music with the kids. He started listening to children's music. "I thought, well, that's kind of corny. Maybe with my musical hipness, I could make some cool songs for the kids." He sang about school pets: "Pinky the rat, rat-a-tat-tat." And Slither the Snake, "make no mistake, he's a slithery snake." Parents began asking where to buy his music. So Jules made some tapes and sold them at a school fundraiser. "We raised enough money for the school to buy a vacuum cleaner."
Serra encouraged Jules to record his children's music professionally. They found a studio in the Yellow Pages and she helped write the songs.  The first CD, "Can a Worm Cha-Cha-Cha" came out in 1997, and the second, "Everybody Has a Bellybutton!" in 2005. In between, Jules expanded his business - JULES Music & Entertainment 4 Kids - to include birthday parties, fundraisers, summer camps, preschool music classes.
At the Barnes & Noble performance, Lukas Beste, 3, of Aliso Viejo dances by the stage the entire half-hour show. "It's his favorite thing to do, to come watch Jules," says Lukas' mom Nicola Beste. "It's really good fun."
Jules has another CD in the works. As surprised as he is about his success, he expects this new beat in his musical career to last a long time. "Think Raffi meets Greg & Steve" says his tagline. "Giggle & Wiggles Guaranteed!"
That's Jules.
Contact the writer: 714-796-7793 or twalker@ocregister.com
---
---

LINKS
inWONDER ACADEMY
 An innovative elementary school for changemakers
San Clemente, CA
http://www.inwonderacademy.com/

FRANKLIN HAYNES MARIONETTES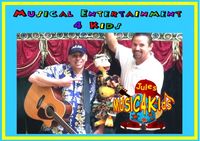 Franklin Haynes celebrates 30 years
of pulling heartstrings
         http://www.haynesmarionettes.com/         
      TAYLORS GUITAR LESSONS LLC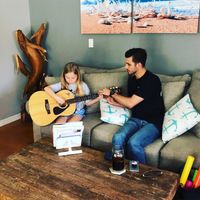 Music lessons in Orange County, CA
https://www.taylorsguitarlessons.com/
baby milagro hooded blanket 
https://www.amazon.com/baby-milagro-hooded-blanket-miracle-touch/dp/B077FL8C9V

BAZE & MY SILLY FRIENDS
Kindie Music, Kids CDs, Music for Kids!
http://mysillyfriends.com/index.html

JOANNA WALLFISCH
Singer-songwriter and jazz improviser
http://www.joannawallfisch.com
Whole Note Music Academy
Music School in La Puente, CA
https://whole-note-music-academy.business.site/
GUITARFELLA
ACOUSTIC, ELECTRIC, BASS GUITARS, STRINGS, AMPS,
PEDALS, ONLINE LESSONS, BLOG
http://www.guitarfella.com

DAVID MOSS MUSIC OFFICIAL SITE

extreme vocalist, percussionist, composer, performer
http://www.davidmossmusic.com/

BENJAMIN MOSS HYPNOSIS CENTER
Benjamin Moss specializes in hypnosis to
reduce anxiety and anxiety related issues
NEWPORT BEACH, CA
http://benmosshypnosis.com/

ROY MOSS, Wood Sculptor & my dad
AMERICAN SCULPTURE, 1917-2009, ALBUQUERQUE, NM
http://roymoss.weebly.com/index.html

JAY MOSS SCULPTURE
New York Sculptor & my uncle
http://jaymoss.weebly.com/

JIM QUEALY
SINGER, SONGWRITER, MUSICIAN
Americana at it's rockin', country, pop best.
www.jimquealy.com

PLAYPARTY.NET
LEGO and RACE CAR PARTIES
www.playparty.net

FREE KIDS MUSIC
What's The Latest in Free Kids Music?
www.freekidsmusic.com
 
Where else has Jules Music for Kids performed? Jules Moss, Children's Interactive Music Concerts & School Programs.
The following is a partial list of more past performances.
Barnes & Noble, Irvine, CA Barnes & Noble, Aliso Viejo, CA Borders Books & Music, Mission Viejo, CA Irvine Child Development Center, Irvine, CA Tutor Time Preschool, Irvine, CA Irvine Arts Center, Irvine, CA Irvine Community Association, Irvine, CA Gilbert Elementary School, Garden Grove, CA Marina Elementary School, Riverside, CA Nelson Elementary School, Mission Viejo, CA Hillsborough School, Anaheim Hills, CA Past Events - Pretend City Children's Museum Melody Makers Newport Beach Bella Terra Mall / Kid's Club (Outdoor Ampitheatre) Newhope Library (Newhope Branch) Santa Ana Public Library (Main Branch) Chick-fil-A (Long BeachTowne Center) Castle Park, Riverside, CA Jewish Community Center Preschool, Costa Mesa, CA Mission Viejo Library, Mission Viejo, CA Newport Beach Library, Newport Beach, CA Hoag Hospital Preschool, Newport Beach, CA Harbor Regional Center, Torrance, CA Kinship Adoption Center, Costa Mesa, CA Montessori International Preschool, Irvine, CA Montessori International Preschool, Irvine, CA Westfield Shoppingtown Plaza Camino Real, Carlsbad, CA Westminster Mall, Westminster, CA Tustin Community Preschool, Tustin, CA Orange County Fair, Costa Mesa, CA Orange County Marketplace, Costa Mesa, CA Seal Beach Library, Seal Beach, CA Redondo Beach Library, Redondo Beach, CA Rancho Santa Margarita Library, R.S.M., CA Valley Beth Shalom Preschool, Encino, CA Los Naranjos Preschool, Irvine, CA Montessori School, Palm Desert, CA Orange Coast College Early Childhood Lab, Costa Mesa, CA Irvine Headstart, Irvine, CA Irvine Unified School District, Irvine, CA Santa Ana Unified School District, Santa Ana, CA Anaheim Unified School District, Anaheim, CA Disneyland Theme Park, Anaheim, CA Longfellow Elementary School, Albuquerque, New Mexico The Outpost Performance Space, Albuquerque, New Mexico The Learning Express Toy Store, Irvine, CA Mission Viejo Arts Council, Mission Viejo, CA Orange County Cable News, O. C., CA Koala Club Summer Camp, Tustin, CA Laguna Hills Moms Club, Laguna Hills, CA Laguna Beach Moms Club, Laguna Beach, CA Aliso Viejo Moms Club, Aliso Viejo, CA Boys and Girls Club Family Campus, Garden Grove, CA Children's World Learning Center, Las Flores, CA Temple Beth El, Aliso Viejo, CA Crown Valley Montessori Academy, Mission Viejo, CA Chick-fil-A, Long Beach, CA Sherman Oaks Galleria/Kids Club, Sherman Oaks, CA