Preschool Music Classes Reviews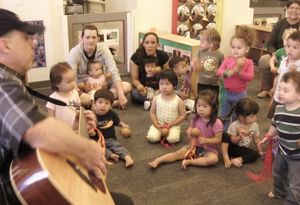 "Super popular music classes with both the children and staff and offering a big variety of interactive music and movement activities. ttty bitty Rockers talented teachers incorporate basic skills curriculum for the children to participate in. Wagon Wheel School is thrilled to have Itty bitty Rockers Music class as part of our program for over 5 years now." 
Miss Ruth Segal - Director, Wagon Wheel Preschool, Los Angeles, CA

"The class captures the attention of 3 year olds to 6 year olds alike.  Witty, fun, age appropriate material covering the basic skills.  Classic children's stories put to song with wonderful puppets that sing & dance. "  
Autumn Miller, Lead Teacher,  Bright Horizons, Irvine, CA
   
"The children talk about how much they love music class.  At free times they can be found independently singing songs from the class.  We love that Itty bitty Rockers incorporates learning with music through rhyming, colors, numbers & foreign languages."  
Jen Hunt, Pre-K teacher, Wagon Wheel, L.A.

"Jules is a wonderful children's musician and his Itty bitty Rockers class is one our children look forward to EVERY week.  The first thing out of our children's mouths "Mr. Jules", "Mr. Jules", "Mr. Jules"  on Thursday mornings. His class is very interactive and Jules picks up on the children's cues on when to switch gears or move to a different song. It is evident that Jules has a passion for bringing music to children and making them come alive with his songs!"
Kelsey Steven - Director, Children's Center @ Taco Bell/Bright Horizon, Irvine, CA

"Mr. Jules is a great music teacher. My class looks forward to his class every week. He engages all the students very well and the children truly enjoy Mr. Jules class. We all love him - Awesome job!"
Ms. Ifra- Lead Teacher, Spectrum Montessori, Irvine, CA

"I miss you Mr. Jules. I loved being in your class last year, especially when you played your guitar. Guess what? In my kindergarten class this year my teacher plays your CD! It is so fun. I am having fun at Mariners Elementary and I can thank you for helping me prepare for kindergarten. You are the best!"
Love, Michael, Pre-K student

"Itty bitty Rockers music class has great energy and the teachers are always engaging the children. I would highly recommend Jules itty bitty Rockers classes and Jules music company to any school looking to enhance their program."  
Roxie Filsoof, Program Director, Montessori at the Park, Rancho Santa Margarita, CA

SCHEDULE YOUR FREE TRAIL CLASS NOW
Shows & Concerts Reviews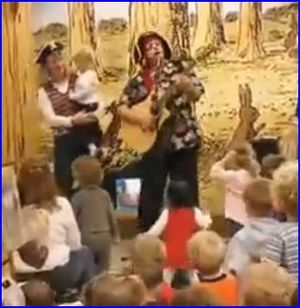 PRESCHOOL SUMMER CAMP SHOW
"The most entertaining kids show I seen ever.
Jules entertained the children and the staff. This was the most exciting, funny,memorable,fun and entertaining show we experienced all year. Jules had us laughing, dancing and singing with big smiles on all the children and staffs faces. I definitely recommend using Jules the Music Man."
 Nichole Fowler-Estis, Director, Sunflower Preschool, Redondo Beach, CA 
You Rating: 5 out of 5 Stars


GIGSALAD.COM
NEIGHBORHOOD CAMPFIRE SING-A-LONG
Jules was a hit for our neighborhood campout! He not only had the kids dancing but the adults too! We can't wait to book him again for next year!"  August 6th, 2016
 Amy Hitzler, Event Planner
 
Rating: 5 out of 5


GIGSALAD.COM
PRESCHOOL SUMMER PROGRAM
"Jules was engaging, fun and most of all appealing to all ages from 2–90 year olds. His material was fresh and very captivating. His introduction of a didgeridoo was sheer genius. It is evident that he has lots of experience working with the preschool population."Heidi Kahn- Director, University Synagogue Preschool, Irvine, CA

"Jules Moss performed at our school, for 7 first grade classes (two 45-minute assemblies) and exceeded all of our expectations. His engaging performance integrated phonics, rhyming words, phonemics awareness, colors, numbers and vivid language play. Our students (who mostly speak Spanish as their first language) were eager to participate and take part by singing along and dancing as Jules sang and played guitar. He had a great rapport with each group that watched him and his interactive show was lively and exciting the entire time. I can only hope our budget allows us to have him return this year (and start a tradition for our kindergarten and first grade classes). I highly recommend Jules Music 4 Kids Program performance to anyone that wants to share the love of learning, laughing and educating children."
Sincerely, Mary-Kate Hagmann First Grade Teacher, Garden Grove Elementary School, Garden Grove, CA

"Jules is a wonderful, energetic man, who is totally committed to family and children. He is very creative and talented and a gentle spirit. He would be a great asset to any organization that he was affiliated with."
Jo Ann Cohen-Bleu, Volunteer and Special Events Coordinator, Kinship Center, Statewide licensed Adoption and Foster Care Agency, Costa Mesa, CA

"Jules was awsome. He had all the kids up, singing and dancing the whole show. All the adults told me how much they enjoyed his show."
Alex Echevarria, Librarian, Lloyd-Tabre Marina Del Rey Library, Marina Del Rey, CA

"Mr. Jules's Summer Music Show has been the highlight of our Summer Camp program for the last nine years.  Mr. Jules is full of life, funny, very animated and knows how to keep children engaged. His show is highly entertaining from beginning to end!"
Miss Priya- Director, Back Bay Montessori, Newport Mesa, CA

"My kids can't stop talking about you since last time we saw you at Barnes & Noble in Aliso Viejo this spring! Would you mind emailing your summer concert schedule to me? We live in South OC, but are willing to drive almost anywhere to see you!"
Thank you, Patti Lee, Mom

"Jules is the Garth Brooks of children's music." Susan Nesbith, Teacher, La Quinta Elementary School, Palm Desert, CA

"A talented musician and songwriter with a gift for children."
Teri Ferentz, Director, J.C.C. Children's Center, Costa Mesa, CA

BOOK YOUR SHOW OR CONCERT NOW
 
Music Parties Reviews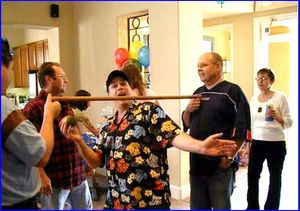 "What a gem!
Jules is not only talented, but truly a natural with entertainment. He was able to engage 30 some children (ages mostly 3-6 y/o) in so much fun, laughter and dancing with such ease. The bubbling laughter, silliness and dancing was a joy to watch. The kids loved him and several parents commented on how great he performed. Thank you Jules for a great day of entertainment for our son and his friends."  Becki McGrath,  December 3, 2016
Rating: 5 out of 5


GIGSALAD.COM
" Very professional, patient and entertaining :)
I started looking for an entertainer for my son's first birthday about 3 months before his party. I found Jules on Gigsalad and decided to hire him because of his good reviews and the fact that I think he will fit well in the theme that I wanted for my son's birthday party, which is a Music Party.
Communicating with him was easy and he and Laura replied really timely, no long wait. Come the day of my son's party, he arrived 30 minutes before our agreed time, complete with lots of props, music instruments and his own music/audio system, which was good because our venue didn't have any audio system.
He was very flexible and even offered to start 15 minutes later than scheduled so that we can wait for more kids to come in and for them to be able to eat first before the program starts.
He was very patient with the kids, given that a lot of them were toddlers, and they loved him. His show ran for 45 minutes,and ended with the singing of the birthday song for my son. I would definitely recommend him :) " Angela Parayno,  December 10, 2016
Rating: 5 out of 5


GIGSALAD.COM

"Fantastic! ...
Jules did a great job entertaining all the kids at my twins birthday party!
His knowledge of early childhood helps to make all the kids comfortable!
We all had a blast!"
 Debbie Medina, Irvine, CA  Dec. 18, 2016
Rating: 5 out of 5


GIGSALAD.COM
"Mr.Jules played for my son's 2nd birthday party with about 10 other children of all different ages. They all had a blast. Mr.Jules brought his own sound system, a guitar, shakers and hula hoops for the kids and he even did a short puppet show. This was the perfect entertainment for our crowd. "
Sarah C.
Irvine, United States
Jules was a fabulous addition to our 3 year-old's birthday party! He was early, had a great set-up, and entertained the kids with energy to spare. They loved singing and dancing along - a very professional presentation.
"Hi Olga! We had Jules for Claire s party! He is truly Great! So much fun. We all enjoyed his program!  
Thank you for the recommendation!" Victoria Stender, Laguna Beach

"Jules music parties entertained for our daughter's party 2 years ago & yesterday for our son's 5th birthday. He rocked our backyard with super silly music, games & lots of laughs. My friends and my family love Jules and his Music party! Thank you," Josie & Henry Sabo, Suzie and Duke's mom & dad

"I highly recommend Jules to any schools looking for a performer for special events and to parents for  their khan ids birthday parties." Forcila Funiestas, Assistant Director, Tutor Time, Childcare/ Learning Centers

"I went to Samantha's party and she gave me  Mr. Jules' "Wally the Worm" CD" The Tina T-Rex song is my favorite! ... ROAR!!! Jason, 4 yrs old

"Thank you again for doing such a WONDERFUL job at Joshua's 3rd Birthday Party. He had the best time and so did all his friends"  Kim Evans

BOOK YOUR MUSIC PARTY NOW
Cards, Letters, Art & Notes